About|e-Sumida Digital Shopping Street

Objective
As a preparative measure for the coming internet based society we look to create a structure that allows commercial transactions online. Through this activity we seek to gather a great number people to Sumida ward contributing to its development and community revitalization. Endeavoring for the online structure`s recognition as Japan`s first online shopping street.
Concept
A door-to-door selling for the new era. To run local based traditional businesses on a digital platform, the internet.
Organization description
A voluntary organization dedicated to the joint management of an online shopping street by companies and individuals who run businesses or companies in Sumida ward. A member shopping street of Sumida ward`s Shopping Streets Association.
Founded
in April, 2000 (5 companies from Sumida ward receive subsidies from the ward)
Representative
Handa Shuichi
Handa Saketen Ltd.: 2-12-17, Oshiage, Sumida-ku
Membership requirements
Individuals or businesses that manage a store or company in Sumida ward.
Membership fees (April, 2017)
[Subscription fee] 3000 yen (tax incl.)
[Monthly fee] 1000yen (tax incl.)
Member stores
16 stores (April, 2017)
Located across Sumida ward. Varied business types and sectors.
【Food】Rice, liquors, doll cakes, senbeis, ready to eat meals, bentos.
【Food service】Yakitoris, Chanko hot pots, catering, liquor stores, ramens.
【Variety goods】Accessories, imported goods
【Construction】Electrical constructions and installations
【Services】Beauty salon, cruising, bath house
【Technical】Embedding
Managing committee
[Chairman]Shuichi Handa((Handa Saketen Ltd.)
[Vice-chairman]Shinichi Katayama (Sumidaya Shoten), Kazumi Ogawa (Omurai Inc.)
[Treasurer]Hori Yuka (Hyotan-do)
[Counselor]Noboru Yamada (Chairman of Sumida ward Shopping Streets Association)
[System management]Yusuke Hiramoto (Ludius,Inc.)
[General affairs]Toshiaki Sakamoto (Sakamoto Senbei)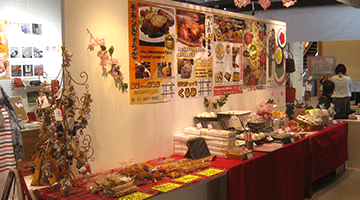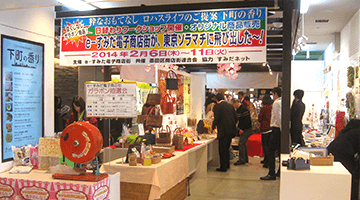 April, 2000

Founding of e- Sumida Digital Shopping Street`s previous organization, e-Sumida 2000. Website goes online.
Stamp rally: May-July, 2000
Survey campaigns (Sept. 2000- June 2001, 5 times in total)
April, 2001

e-Sumida 1 year anniversary
Eco bags exposition (April, 2001) and e-Sumida produce their own original eco bag
Monthly meetings (3rd Thursday of every month)
Joint publicity/promotion of yearly events and launch of original products/services
Net auctions and flea markets
Quiz campaigns (Sept. 2000- June 2001, 5 times in total)
April, 2003

e-Sumida 2000 3rd Anniversary
Coupons campaign (Sept. - Dec. 2003)
May, 2004

joins Sumida ward Shopping Streets Association
Changes name from e- Sumida 2000 to e-Sumida Digital Shopping Street
April, 2007

Number of member stores reaches 36
Participation in events held in Sumida ward (Sumida Matsuri, Kinshi-cho Kounai Ondo, Ryogoku Nigiwai Matsuri and more).
April, 2009

Re-organization of member stores and management structure
Restart with the previous 12 stores plus 2 new stores
SEO tutorials
Analyses of the shopping street and all member stores` websites
April, 2010

e-Sumida Digital Shopping Street 10th anniversary
Supporting organization for movie Hospitalité filmed in Sumida Film Studios.
Appearance of several member stores.
April, 2011

A system development company joins as member store
Establishment of a new supporting structure
SNS tutorials
May, 2012

Opening of Tokyo Sky Tree, participation of 4 member stores
April, 2013

Facebook tutorials, registration of all member stores on FB and creation of FB page
Confirmation for future opening of e-Sumida Digital Shopping Street in Tokyo Solamachi 5th floor
Addition of 6 new member stores
Jan, 2014

e-Sumida Digital Shopping Street website renewal
Feb, 2014

Participation in Sumida Machidotoro held at Tokyo Solamachi 5th Floor 6th (Thu) - 11th (Tue) Feb.
Nov. 2014

Cruises and town walking campaigns and tours 10th Sept. - 15th Oct., 15th Nov.